Ice Cream Store Franchise vs. Independent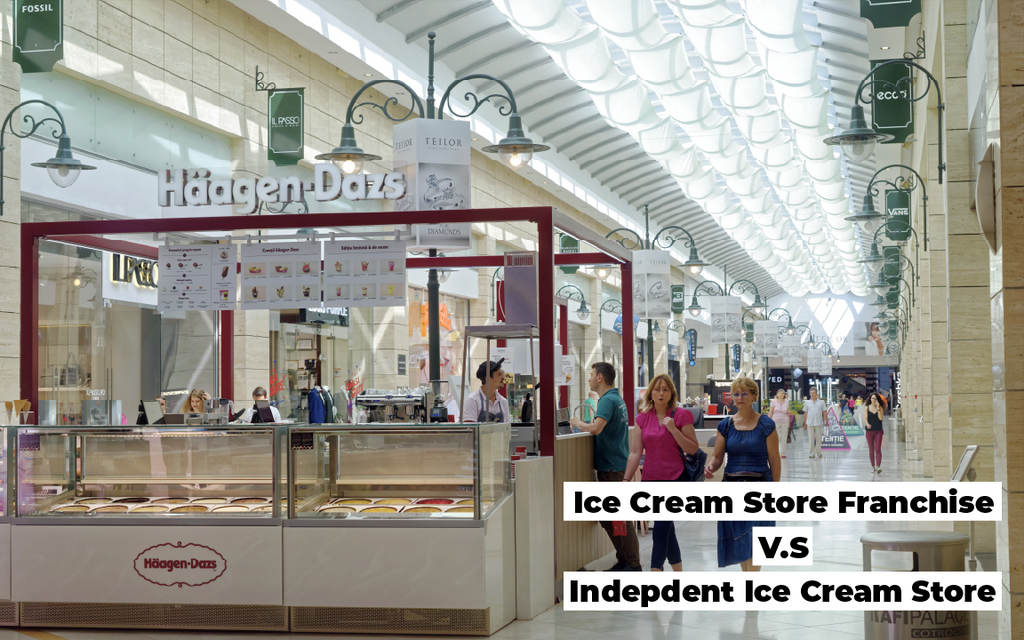 What are the advantages and disadvantages of a franchise when it comes to business? There are many ways that you could approach business: for some maybe you want to start a business from scratch, or maybe you want to buy an existing business that actually has some history of success or has a track record through an acquisition. Or maybe you're looking into buying a franchise. And if you are thinking about buying a franchise, what are the advantages and disadvantages?
I'll just share with you my perspective of how I view franchises. When it comes to franchises, it's essential to understand that you are buying into an existing system. This is why a franchise is valuable. 50% of small businesses fail in the first two years, and 95% of small businesses fail in the first five years.
So when you're starting a business without any support system, that theres a high probability that the business won't make it past the five-year mark. And when I say making it, it doesn't mean you're profitable. It just means that you are surviving. The casualty rate is high when it comes to starting a business.
when you're buying an existing franchise. If the franchise and operating company has a good history, knows what they're doing, it can dramatically reduces your rate of failure, right? It means that you can actually start something, you're basically buying into your business. So for example, McDonald's. Why does a McDonald's cost over a million dollars to buy as a franchise? Because McDonald's, it is a machine. It's a money machine.
It's a proven money machine that sells hamburgers, right? They don't have the best products in the world, not the tastiest burgers in the world, but they have the best system in the world when it comes to selling fast food. This is why the franchise is expensive. because you're buying to the existing money machine. So as an entrepreneur, if you want to get into a business, you don't want to take on a lot of risks and you have some capital you're willing to invest if you are the type of entrepreneur that likes to operate within certain boundaries, that you want to follow a system and possibly expand quickly with second and third location than franchise is a much safer way to go versus opening, say something from scratch.
You're opening a restaurant from scratch. The risk gets very, very high and the chance of you not making it is very high. But you still have to do your research because there are so many different franchises out there. A lot of franchises. You can see that trade shows, they will try to sell you the franchise.
But you need your own research. Knowing the population, knowing your city, knowing the neighborhood, knowing the needs in the to place what franchise is popular. Just because it works for one city, it doesn't mean it'll work for another city. Now, for some entrepreneurs, if you are more, I would say creative that you don't like to follow a system. You want to create a system, you just want to do your own thing, then chances are franchise may not be the way to go for you because it would drive you crazy.
If you want to set your own price, you want to do your own marketing. But assuming you have the knowledge right. So if you want to be a business owner, I believe no problem. You want to be the operator. No problem.
Ice Cream Store Franchise vs. Independent Ice Cream Store
The first step of opening a frozen yogurt shop is to decide what kind of shop you want to open. Do you want to have a full-service or self-serve shop? How many flavors would you like to offer? Where do you want to be located? With many of these questions, you will get assistance from corporate if you decide to open up a franchise-owned store. This is probably the most important decision you will make about your store. There are reasons to select either concept but you must consider all alternatives and choose the path that is best for you.
One reason to go with a franchise is the business startup help. A franchise will often give you detailed instructions of how to design your shop, which products to buy from specific dealers, and help you with all other questions you may have. The process isn't simple and easy though. One well-recognized franchise requires you to submit a business plan as well as an application in order to own one of their stores. Franchises carefully select who they can trust with their brand and you have to prove that you are capable of keeping their brand integrity.
Another reason to open a franchise is to gain the customer base that will come with brand recognition. While the frozen yogurt industry is still new and on the rise, there are a couple of frozen yogurt brands that are recognized nationally if not regionally. Many franchises in the United States are establishing themselves regionally, to begin with, and will start branching out as they gain popularity. Opening up a franchise allows you to attract customers who already know your brand and will come to your store because of this familiarity.
While much can be said about the knowledge that comes from franchise owners, you must weigh the costs first and decide if they are worth it for you. I got some information from one popular US franchise regarding startup costs. They want you to have at least $200,000 in liquid assets. You must also pay the franchising fee of $35,000 and $30,000 for each additional store you open. The franchise term they offer is 10 years. There is a 6% royalty rate and 4% of your gross revenues must be allocated to advertising. This information is from one of the larger franchises available so all costs may not be this large but no franchise will come without its costs.
It's up to you to decide if owning a shop that comes with brand recognition and customer preference is worth you giving a larger percent of your profit to a corporate owner. Franchises come with a large support network and the owner will assist in your business but they don't guarantee success. Franchising may be the path for you but if you are looking for startup help without the royalty costs, our team here at TurnKeyParlor will happily help you! Give us a call at 877-817-5716 or if you'd rather browse, view our e-store SHOP HERE!