Recommended Equipment for a Frozen Yogurt Store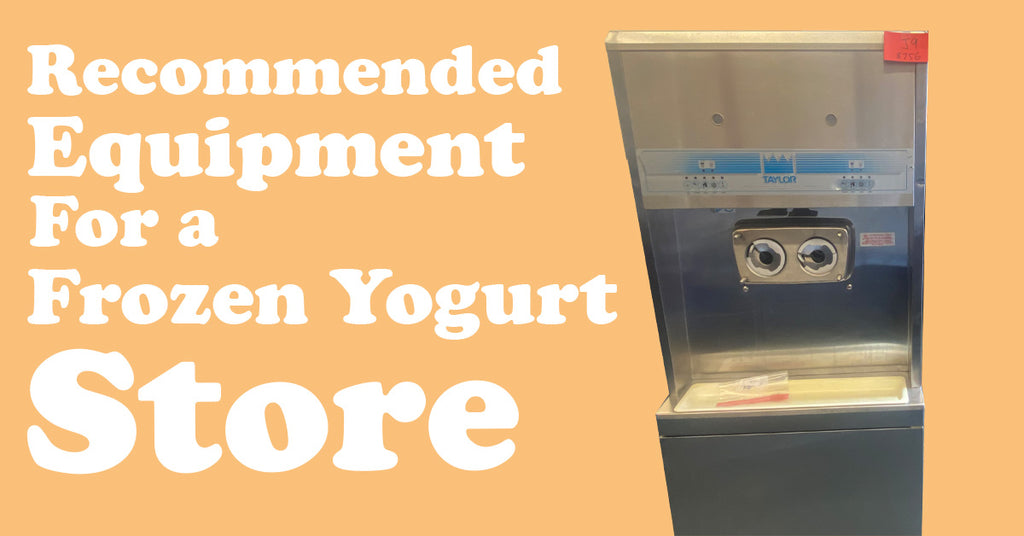 The information in this blog post is pulled from our Soft Serve Frozen Yogurt Business Guide, our eBook goes over these topics in even more detail, and is totally free to download.
While conducting research & shopping for soft serve equipment, you've probably noticed just how many different types of machines are on the market. Not just different models or sizes, but also so many different brands, all at different price points. It can start to get really confusing, and the last thing you want is to end up with a machine that you can't use, or even worse, a machine that just makes bad frozen yogurt/soft serve.
In a perfect world, you could just call and ask the major soft serve machine manufacturers what the pros and cons to a particular model are, and then you could make a determination from there. Unfortunately, it would be a bit naive to take them at their word; these companies are infamous for talking up their brand while bashing the others. Regrettably, this is just a fact and a normal everyday aspect of this business.
With all of that being said, there are clear winners and losers when it comes to the soft serve machine business; some machines are just better than others. The big, brand name machines which you've likely already heard of are really the machines you want to stick with. The five brands we recommend are below:
Stoelting
Taylor
Electrofreeze
Donper
Spaceman
Electrofreeze, Stoelting, and Taylor are the three soft serve machines I'd recommend over the Donper & Spaceman. While the Donper and Spaceman are okay, they are not as solid as the first three in terms of quality, build, and even consistency of your product. Electrofreeze, Stoelting, and Taylor are the 3 major American made brands, while Donper and Spaceman machines are made in china.
However, if you really aren't looking for the best of the best, and you think a simple, single flavor china built machine will do fine, then do yourself a favor and stick with either Donper or Spaceman. These companies have representatives in the states, and it will at least be possible to get your machine worked on were anything to go astray!
Whatever you do, avoid the stupidly cheap, china built machines. Vevor machines are a good example of that; they are a huge waste of money.
Really, any soft serve machine brand without some sort of history, no matter where it's manufactured, is going to hold a much larger risk. Save yourself the hassle and stick with the brand names when its comes to soft serve machines. Stoelting, Taylor and Electrofreeze are big brand names with techs across the country; you won't be left holding the bag if something were to go wrong. And if you ever lose or break a part, it's much easier to get replacements, as they aren't being shipped from a different country.
Buying Used instead of New
Now, this is where we come in. If you were to ask a manufacturer, they would likely give you a multitude of reasons why buying new is better than buying used. In some instances that can end up being the best option for you depending on your situation, however, not every circumstance is the same. Spending 30k on one brand new soft serve machine may just not be realistic for many new business owners.
If you want the good, well known brands like Taylor, Stoelting and Electrofreeze without paying brand name prices, than we highly recommend buying used. In the end, buying a slightly used brand new machine will work out better than buying brand new cheap machine from china.
Now, your first instinct may be to start looking on sites like Craigslist and eBay, and honestly we wouldn't blame you! If you know what you're doing, you can find amazing deals. But, the potential savings comes with a caveat; there's no guarantee the equipment you buy is working the way it should. And deals over sites like Craigslist have no returns or satisfaction guarantees. You'll have to take whoever s selling the machine at their word. We can tell you as buyers of used equipment, we often run into this issue. Luckily we have a warehouse with the tools to fix most of the issues these machines may have, but even then we often end up buying machines that are basically irreparable.
Buying used can be scary, definitely when it comes to these high ticket items. That's why at Turnkeyparlor we guarantee all machines are in working condition. We clean up and fix machines from across the country, and resell them for a fraction of the cost of new machines.
To check out our most recent USED equipment listings, which are updated weekly, see our USED equipment listings page HERE.
Air Cooled or Water Cooled Soft Serve Machine?
When considering what machine is right for your store, price isn't always everything. There are a few other important aspects of the soft serve machine to consider before pulling the trigger.
If you don't already know, soft serve machines come either Air-cooled or Water-cooled. Air-cooled machines usually have vents on both sides of the machine. Like its name suggests, it cools itself by pushing air through its vents; you must leave space (4-6inches, each machine is a bit different) around the machine so it does not overheat.
Water-cooled machines are more work to set-up, and need to be connected to a water line to function properly. On the plus side, they usually do not have the same space restrictions that air-cooled machines do, which make them the preferred option if you want to run multiple machines in close quarter.
Just like before, what you go with depends on your needs! I listed out some of the benefits for each below:
Pros of Air-Cooled
Pros of Water-Cooled
They are basically plug & play machines; you don't need any plumbing work done.
They hold there value better than water-cooled machines.
They are often cheaper and more available on the market.
They can run in close proximity to one another.
They won't heat up your store (reduce AC cost)
To put these points simply, if your just looking for one or two machines, its probably worth it to just invest the extra cash into an air-cooled machine. But if you already have 5 water-cooled machines set-up, why spend the extra money on an air-cooled machine? Or if you want to open a store that serves 20 or 30 different flavors, having all those machines running air-cooled would require a huge space, and even then the machines would get loud and the store would get hot.Moving on...
Single Phase Power or Three Phase Power?
The final aspect of a soft serve machine you have to consider is the phase your machines runs off of. To keep it simple, Single Phase soft serve machines work anywhere, while Three Phase machines must have Three phase power. If your shopping for a machine but don't already have a location and know what type of power your running, then stick with single phase machines.
Single phase machines are definitely more sought after; they sell more quickly and for a bit of a higher price. If your building does have three phase power, then I would recommend going for a three phase machine! It saves you money on your power bill and will cost you less up front too!
If your looking for much more in-depth information, including (but no limited too) financials, floor plans, general business strategy and pricing knowledge, then you should check them out: