Soft Serve Machines in Unique Venues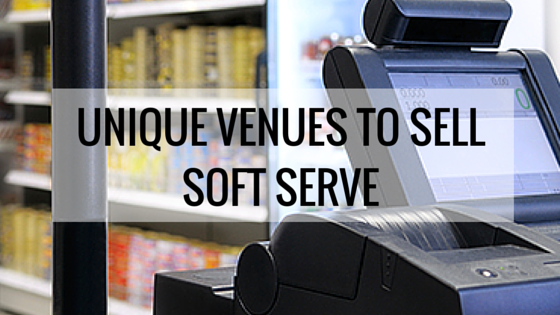 This post may have outdated information. Originally written 09.16.2015
Serving Soft Serve in Grocery Stores:
We are seeing grocery stores move towards the trend of having in-store cafes and to go food options. What better way than to offer mothers and fathers a bribe for children to stay busy while their parents do some errands. Grocery stores can offer a quick treat to curb the hunger before patrons begin their shopping. Also, stores can highlight fresh in season fruit to top yogurt, creating an irresistible treat, showcasing what's in store now and using up leftover produce.
Serving Soft Serve in Gas Stations:
The gas station is becoming more central for convenience foodservice options. More consumers are demanding quick, fresh and a variety options. Gas stations are becoming more chic, updated and centers for consumers to fill up and recharge. As a convenience store, you have the challenge of pleasing customers from all walks of life with individual needs. A soft serve machine can easily offer ice cream, soft serve, custard and all kinds of shakes.
Serving Soft Serve in Sports stadium:
Enthusiastic audiences and fans are ready to be entertained when they attend sports games. Offering family-pleasing indulgent treats by using a frozen yogurt and soft serve machine is an easy way to garner revenue. Chime in some team pride by dying the color of soft serve to the team colors. Create fun names for your items based on your team's mascots and players or offer them in collectable souvenir cups.
Serving Soft Serve in Colleges:
College students are 162 percent more likely to order frozen yogurt for delivery than the rest of us. Give them an option on campus, that they can go to almost any time of the day, and you will have a solid business. It's also been proven that the millennial age group eats more snacks relative to the older generations, so schools are looking to adapt by providing a variety of options to their students.
Serving Soft Serve in Shopping malls:
Shopping malls are the perfect location to start a frozen yogurt shop or kiosk. Customers will love the added convenience of being able to purchase a sweet treat where they are already shopping. Outdoor shopping malls have the opportunity to create a soft serve kiosk, where you can provide a variety of foodservice options like ice cream, shakes, coffee and smoothies. Indoor shopping malls will be available to be open all season long.