What equipment do I need to start a frozen yogurt store?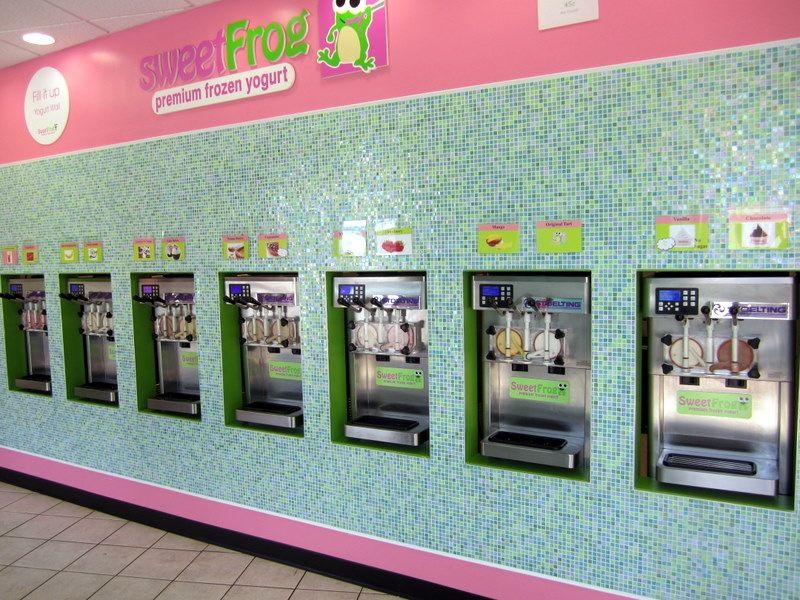 While having frozen yogurt machines are a given when opening a frozen yogurt store, there are also other equipment items you will need to consider. The overall experience of your customer is affected by several things, including the choice of your equipment. Consider brand, price and quality when purchasing the items needed to open your store. There are two main areas you will buy equipment for your store.
1. Back of House (BOH)
In the Back of House (BOH), the kitchen and office area, you will need these items:
Reach-in refrigerators to hold yogurt mixes and refrigerated toppings.
Reach-in freezers to hold things such as cheesecake bites, liquid mix that is not ready to be used.
Sink for all employees to wash their hands.
Three-compartment sink to wash, rinse and sanitize all utensils, dishes and containers.
Utility sink for the mop bucket.
2. Front of House (FOH)
The Front of House (FOH) includes the parts where your customers will enter, make their mixes and sit down while enjoying their treat. The equipment needed for this area is:
Reach-in and refrigerated toppings bar for toppings such as fruit, mocha, popping boba and whipped cream are a must for any frozen yogurt / ice cream store.
Dry toppings containers for products such as candies, sprinkles, and Oreos. These can be custom built into a counter or they can be purchased from various suppliers like Argosy and be mounted to the wall of on a counter-top. Don't forget to purchase durable spoons so that your customers can scoop their toppings onto their yogurt.
Most stores will have 1-2 Point of Sale (POS) systems. You will notice at other frozen yogurt stores that customer lines will flow faster on busier nights with 2 POS systems being used instead of just one. To make service quicker, also consider high quality hardware such as a scale, receipt printer, card reader and iPad. These can be provided by companies such as Revel.
It is important to put thought and have a conscious layout of your store to create a satisfying experience for your customers. Including chairs and tables that are comfortable will allow your customers to relax long after their frozen treat is consumed. Think about providing entertainment in the form of games and a white board, to create a fun atmosphere where you customers will come for more.
3. Miscellaneous Items
Along with the FOH and BOH equipment, there are also additional miscellaneous items often overlooked. You will want to purchase:
Cups – you will need to purchase so your customers can have something to dispense their frozen yogurt into. It may be beneficial, if your store is a self-serve, to offer a 16 ounce cup option because a majority of customers will fill it with more than they anticipated. This will lead to more potential profit for your business. Also include lids for the cups so you will be able to offer to-go for you customers.
One trend in the frozen yogurt industry is to provide eco-friendly spoons in a variety of colors. This is not necessary, but it provides a nice extra touch to your store.
Kitchen supplies such as cutting knives, cutting boards, and food grade buckets to prep food need to be purchase to ensure proper food safety technique.
Additional offerings such as a waffle bowl maker and hot fudge dispenser allow for more opportunities to increase profit and make your customer happy.
This list may seem overwhelming and more than you bargained for when signing up to open a frozen yogurt store. To save time, money and your sanity, most of these items can be consolidated into one purchase by companies like Argosy with Turnkey packages. These turnkey packages range from three machines to ten machines and come with a toppings bar, refrigerator, freezer, POS system, trim rings and three-compartment sink. You can contact us at 877-817-5716 today for turnkey pricing and any questions you have on opening a frozen yogurt store.