EDC4 - FOUR TUB ICE CREAM DIPPING CABINET
4 TUB ICE CREAM DIPPING CABINET MODEL TKPEDC-4
---
The Perfect Ice Cream Dipping Cabinet if your space is very limited. Gets you into the ice cream business fast, easy and for a great price! Holds 6 three gallon tubs - 4 on top and 2 in storage. These are fully self contained, meaning they don't need a drain.
Only reason you would need to plumb anything is if you decide to buy the dipper well (to keep the scoopers in).These freezer plug into a standard outlet (115V) so no issues there. They run on very little power (4.7 amps)
The sliding glass lids and the 3 gallon tub holders are included. Best warranty in the business: 5 years on compressor, 1 year on parts and 90 days on labor.
Features:
Adjustable Thermostat: -10 degrees to +10 degrees- Allows for variable settings to scoop Ice Cream, gelato or ItalianIce. Heat reflective glass lids provide extra protection from ice build up commonly found in other dipping freezers
Real glass sneeze guard made with tempered glass.
Electrical requirements are minimal in comparison to other dipping freezers - meaning much lower electric bills
Can holders included in price help keep ice cream tubs steady for easier scooping
Four locking casters make it easy to move freezer from one location to another
Best Warranty in the business - 5 years on compressor, 1 year on parts, 90 days on labor
Length (inches): 24 3/4" - Depth (inches): 24 3/4" - Height without sneezeguard (inches): 35" - Height with sneezeguard (inches): 50"
These are fully self contained, meaning they don't need a drain. Only reason you would need to plumb anything is if you decide to buy the dipper well (to keep the scoopers in).
The are on casters (wheels) so that are easy to move around.
Check Out Our Free Business E-Book:
Check out our FREE Ice Cream Business guide to help you decide which set-up is right for you!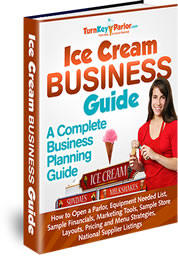 SHIPPING POLICY
When your order arrives, please make sure that you inspect the equipment carefully when you receive it from the carrier. If there is any visible damage, please mark "damaged" on the carrier paperwork.

You need to make sure you unwrap the equipment - all boxes/pieces to make sure that everything ordered is there, and that it isn't damaged. WE CANNOT PUT IN A CLAIM IF YOU DO NOT MAKE A NOTATION OF SOME SORT ON THE SHIPPING PAPERWORK. The delivery person can't leave until you sign the paper work. If there is a chance that the person who placed the order and is reading this policy will not be there during delivery of the shipment, make sure the store personnel is aware of the policy. Damages not noted because you were not there at the time of the delivery, and someone else received it who did not note them on the paperwork, will not be eligible for the claims process. PLEASE make sure everyone who might be there to receive the shipment understands this.

Again, a notation of damage on the paperwork will make it easier for us to put in a claim. If the damage is excessive, refuse the shipment (new equipment only, used or customer equipment cannot be refused)and have them send it back to us. We will ship a replacement unit out immediately. If the damage is minor or obviously cosmetic, please note this on the paper work and go ahead and accept the equipment. You can call and e-mails us a few pictures of the cosmetic damage, and we will work out a partial refund that is relative to the damage and acceptable to you. 

If the equipment does not work when you plug it in, give us a call right away. Our goal is to make sure you are happy with what you get and that it works right from day one.
REFUND POLICY
The return/refund policy on NEW Equipment and USED or CUSTOM equipment are different. You have 3 days to return brand new equipment for a full refund less shipping and a 20% restocking fee. Custom equipment like dipping carts or used equipment cannot be returned and must be accepted when delivered. We guarantee custom equipment and used equipment will be in good working condition when you receive it, and if not, as long as you report the mechanical problem within the first 14 days you have the equipment, we will get it fixed and cover the cost of doing so unless we have a separate stated warranty on a specific deal. Custom or used equipment cannot be returned under any circumstances. Should it not be in working order when you get it, we will get it fixed. If we can't get it fixed, we will refund your money. On standard new equipment, you must notify us within 3 days by sending an email to equipment@turnkeyparlor.com stating that you want to return the equipment. We will refund your payment less appropriate shipping and restock fees and coordinate for the equipment to be picked back up. See "shipping" policy link for instructions on how to properly receive equipment.