How Much Does a Soft Serve Machine Cost?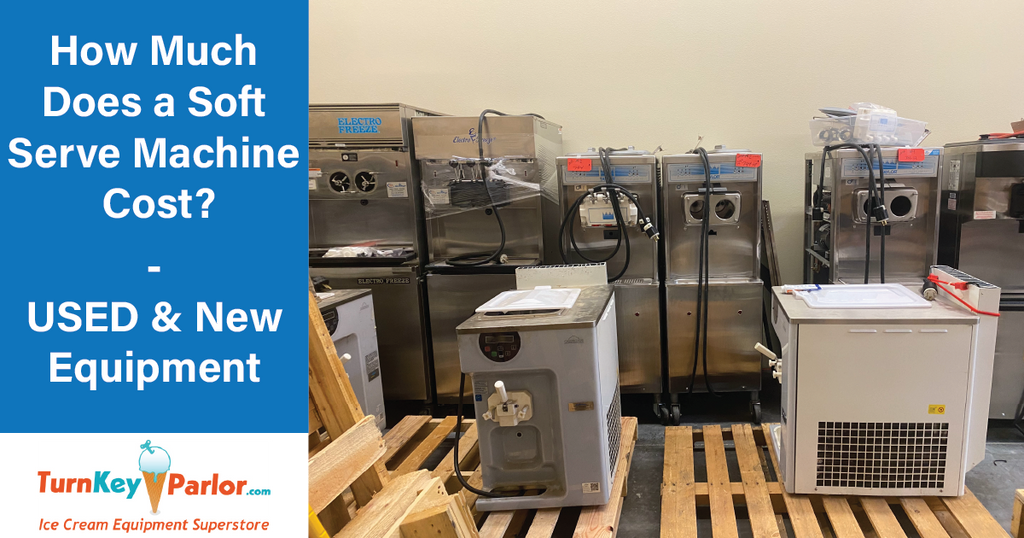 USED INVENTORY ALERTS
Yes, I want a weekly email with USED Equipment Inventory Updates
---
Q. How Much Does a Soft Serve Machine Cost?
In general, the cost of a soft serve machine can range drastically. Brand new soft serve machines can start at $7,000 for a single flavor, and can go higher than $35k for high volume pressurized machines.
Google is littered with ads for cheap Chinese made soft serve machines so be real careful about jumping on a machine just based on a low price point. Regardless of what the review say because many of those are planted by the manufacturers themselves. We have a ton of people come to us after they have bought a cheap machine asking if they can trade it in. Unfortunately we can't take them because we aren't going to do that to one of our customers. If you want guaranteed quality, we highly recommend that you stick with the well known and reliable brands such as Taylor, Stoelting, and Electrofreeze soft serve machines that are made in the USA. There are a few imported brands that are excellent but they aren't cheap either. If you don't want to spend the money required to buy a well made soft serve machine you are better off skipping the project altogether.
That said, an option to help you save money is buying a used ice cream machine. The upside to buying used equipment is obviously the potential savings. You are also recycling which is obviously a good thing. Used machines will vary widely in price but you can expect to save around 50% depending on brand, model and age. Sort of like buying a car.
At Turnkey Parlor we will listen to what you are trying to do as far as a concept and we will recommend the right machine. Many deals on ebay or craiglist look great until the machine arrives and you then realize you bought the wrong model. This happens a lot and I feel sorry when people dump good money after the wrong machine then need us to sell it for them and recommend the right machine. That can be a costly mistake. Skip that step and call us.
When you buy a machine from TurnKeyParlor, we guarantee working condition when you get it or we pay to fix it. No small print warranty here. It is why we have such excellent, verified customer reviews.
How Much Does a USED Soft Serve Machine Cost?
Updated 3/24/2022 - For the most up-to-date options for all our used equipment, click here!
Below are three options for USED soft serve machines that are available today but keep in mind they come and go quickly!
1.2017 Taylor C161 1PH Air
This is a Taylor C161 soft serve machine. This model is Single Phase and Air-cooled; generally the most sought after machines on the market today. The Taylor C161 machines are compact and the base offers storage space to hold cups, cones, or any other non-refrigerated merchandise. The base is also detachable, and can be set onto a counter/table top to save even more space.
This machine is great for any size location, and is one of the most versatile machines available in terms of size. Like most Taylor machines, the C161 makes professional grade product that will not disappoint.
Taylor C161 Features:
Freezing Cylinder: Two, 1.5 quart (1.4 liter).
Mix Hopper: Two, 8 quart (7.6 liter). Separate hopper refrigeration (SHR) maintains mix below 41ºF (5ºC) in Auto and Standby modes.
Indicator Lights: The Mix Low light alerts the operator to add mix. Audible alarm may be enabled to sound when mix is low.
Electronic Controls: Finished product quality is monitored by SoftechTM controls that measure viscosity.
Standby: During long no-use periods, the Standby feature maintains safe product temperatures in the mix hopper and freezing cylinder.
Air Filter: Easily removable, cleanable air filter helps keep condenser clean for optimal refrigeration system performance.
Door Interlock System: Protects the operator from injury as the beater will not operate without the dispensing door in place.
Pricing for the Taylor C161 HERE
2. Stoelting O231 High Volume Soft Serve Machine - 1PH Air
The Stoelting O231 Soft Serve Machine is a powerhouse - Offering Two separate flavors as well as a twist of the two, this machine is made for high volume, high traffic locations. It's hoppers each can hold up to 6.5 gallons of liquid product (for a total of 13 gallons of product available just within in the hoppers), you won't need to worry about refilling your machine over and over again, even during your busiest days.
Similar to the previous machine, this Stoelting O231 is a 1Ph, Air-cooled machine - this build is generally the most sought after on the soft serve machine market for ease of use and setup.
Stoelting O231 FEATURES
Delrin food grade plastic blades provide quiet operation and superior durability.
Simplified design for quick assembly after cleaning.
Adjust the dispense rate to meet your requirements.
Clear door displays circulating product for merchandising appeal.
Efficient freezing cylinder and auger design delivers a consistent uniform product with small ice crystals and a quick recovery time.
Highly efficient auger design gently folds the entire contents of the freezing cylinder, delivering a thick, smooth, and creamy product.
Self-closing spigot eliminates waste and ensures precise portion control.
Compact floor unit design saves valuable floor space.
Long-wearing parts offer lower preventative maintenance costs.
Maintains constant temperature with fast evaporator defrost.
Tamper-proof controls for self-serve applications.
Pricing for the Stoelting O231 HERE
2019 Taylor 794-33 3PH Water cooled
Serve up one cone after another with the Taylor 794 soft-serve ice cream machine! This gravity-fed floor standing machine comes with locking swivel casters for convenient mobility and is perfect for most applications. operation is simple thanks to its digital controls that allow you to change viscosity, monitor the hopper temperature, and even see your daily and total serving count.
This model features a hopper agitator that stirs the product to keep it from separating while reducing frost buildup around the sides to ensure maximum efficiency. It's also highly versatile- capable of handling almost any type of soft-serve, frozen yogurt and ice cream mixes. It can dispense two different flavors separately or both together in a twist.
Boasting a fast initial freeze time of five minutes and a recovery time of just two to three minutes, this unit is rated to produce just over 400 four-ounce servings per hour in a compact footprint. Plus when your supply is running low, a low-level indicator light will activate giving you a heads up so that you can refill the unit at your convenience.
featuring patented freezing technology, this machine can lower electric bills and heat output by 15 to 35 percent versus the competitors. it also features a standby mode for conserving power during slow or off-hours.